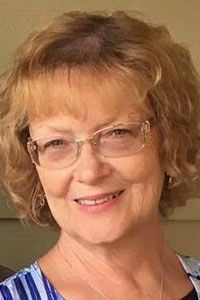 Kathy Cayton serves as the Cecil Field POW/MIA Memorial Treasurer. She grew up on the east coast in a military family where her Dad and three brothers proudly served with careers in the US Navy. She graduated in 1973 from North Kingstown High School in Quonset Point, RI and attended Tidewater Community College. She became a Navy Wife at 19 years old and they followed in their family's footsteps of career military service. Kathy held various office secretarial positions and worked outside the home for over 40 years. She also enjoyed being a caregiver for her Mother and other family members. They have lived in Orange Park, FL since 1988.
Kathy is a member of Navy Wives Clubs of America, Inc. and serves as a volunteer in various positions for the local club, Daughters in Dixie #300 (formerly of Cecil Field). She is their current Treasurer and has held many leadership positions on the National Board including Regional President, National Secretary and National President. Kathy was instrumental in establishing The Jacksonville Ladies of the Jacksonville National Cemetery and served as the first Chairman of the organization making sure no Veteran is buried alone. One volunteer job has led to the next and Kathy is also involved with the Support Committee for JNC, Veterans Council of Duval County, Florida Fallen Heroes and Community Hospice Veterans Partnership and many others through the years. She is a dedicated volunteer helping as needed to support military families, bases and communities.
Married to her Jr. High School sweetheart, Mike for over 44 years they are blessed with four children and seven grandchildren and many adopted from the heart military families.