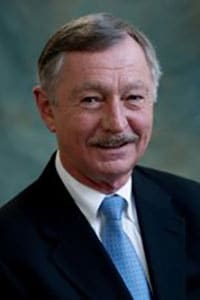 Sam K. Houston, Jr.
Chairman of the Board
Sam K. Houston, Jr. serves as the Chairman of the Board. Houston attended the University of Kentucky where he earned a bachelor's Degree of Science in Engineering in December 1967. He entered the Navy via Aviation Officer Candidate School, Pensacola, Florida, and was commissioned an ensign in June 1968. He served 28 years in the Navy as an Aircraft Carrier Pilot, including a one-year tour in Vietnam assigned to the Naval Advisory Group, and later as the Operations Officer of the Fleet Air Support Unit at Da Nang. During the Gulf War he was the Operations Officer for Commander Sixth Fleet homeported in Gaeta, Italy.
As an S-3 Viking aircraft pilot he served in the following squadrons; VS-32, VX-1, VS-24, and VS-30. He held numerous high-level leadership and command positions including aircraft squadron Commanding Officer, aircraft Wing Commander, and as the Base Commander of Naval Air Station Cecil Field. He also served two tours at the Pentagon in Washington D.C., as an aircraft program manager and advisor to the Secretary of the Navy on aircraft programs. After retirement from the Navy in 1995 as a Navy Captain, he joined the City of Jacksonville and became the Division Chief of the Fleet Management, where he served for 16 years before retiring from the City in October 2011. While with the City, Houston was a member of the Florida Association of Government Fleet Administrators and the Association of Equipment Management Professionals and held various officer positions within both Associations.
He and his wife of 44 years, Patti, have two children, Brianna, and Sam the III, and has 3 grandsons, Ryder, Bryce, and Jackson.