National Designation of the POW/MIA MEMORIAL and MUSEUM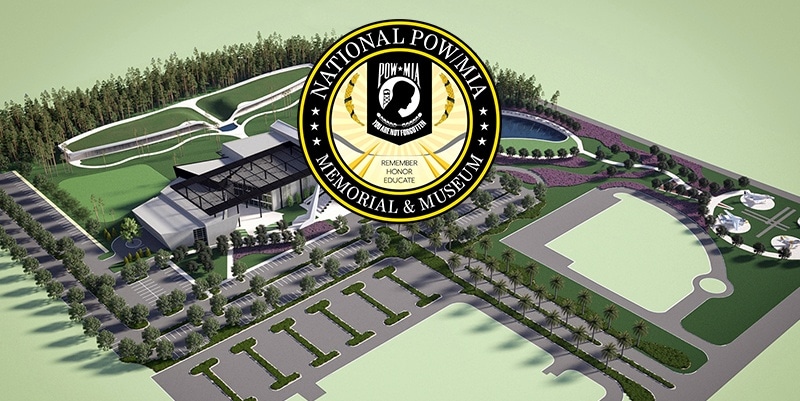 **** Update September 20th, 2019. *****
The bill has officially been introduced to congress in a huge step in receiving the national designation. Read about it here.
Please sign the petition if you have not already and share with friends to help show support for the bill to be passed. Thank you.
We are requesting your support to petition our leaders in Washington DC for a national designation to be given to the Cecil Field POW/MIA Memorial & Museum located at former Naval Air Station Cecil Field in Jacksonville, Florida.
The National POW/MIA Memorial & Museum at Cecil Field is located on 26 acres in Northeast Florida at the former NAS Cecil Field Master Jet Base (now known as Cecil Commerce Center). The existing Memorial Park was dedicated to those Naval Aviators stationed at NAS Cecil Field during the Vietnam and Desert Storm War eras. The site currently consists of markers and associated planted trees for each of the 16 pilots stationed at Cecil Field who made the ultimate sacrifice in the service of our country (known as Hero's Walk and Freedom Trees), a pavilion with a stage area, a starburst metal display of aircraft, and a granite base seal of this former Master Jet Base. Once a national designation is obtained, the site will be further expanded to hone POWMIA services members of all military branches and will include a newly constructed museum and additional tributes. The City of Jacksonville previously approved a City ordinance to lease this 26-acre property to the organization.
HONOR ALL FORMER PRISONERS OF WAR; REMEMBER AND NEVER FORGET THOSE MISSING IN ACTION HEROES AND THE FAMILIES WHO SEEK THEIR RETURN.
National Designation of the POW/MIA MEMORIAL and MUSEUM
Read the petition
433
signatures = 4% of goal
Please confirm your signature by clicking the confirmation message you received in your email to be shown on the list.
| | | | |
| --- | --- | --- | --- |
| 433 | Mr Keith K. | Jacksonville, FL | Mar 09, 2020 |
| 432 | Mr Kenneth D. | Palm Coast, FL | Mar 09, 2020 |
| 431 | Mrs Kathleen S. | New Milford, Connecticut | Mar 06, 2020 |
| 430 | Mr Kevin G. | Las Vegas, NV | Mar 05, 2020 |
| 429 | Mr Randy C. | Woodbridge, VA | Feb 21, 2020 |
| 428 | Ms Jennifer S. | Everett, MA | Feb 11, 2020 |
| 427 | Mr John R. | Orlando, FL | Jan 30, 2020 |
| 426 | Mr Bret R. | Jacksonville, FL | Jan 28, 2020 |
| 425 | Ms Linda R. | West Valley City , Utah | Jan 25, 2020 |
| 424 | Mr Eric N. | Orange Park, FL | Jan 24, 2020 |
| 423 | Ms Barton H. | Blaine, Minnesota | Jan 24, 2020 |
| 422 | Ms Alice S. | Middleburg , FL | Jan 24, 2020 |
| 421 | Mx. Edwin W. | Jacksonville, Fl | Jan 19, 2020 |
| 420 | Ms Courtney K. | Lexington, KY | Jan 19, 2020 |
| 419 | Ms Mary C. | Ponte Vedra Beach, FL | Jan 16, 2020 |
| 418 | Ms Gary M. | | Jan 13, 2020 |
| 417 | Ms Kenneth F. | Westmoreland , Ks | Jan 13, 2020 |
| 416 | Mr John C. | Jacksonville, Florida | Jan 13, 2020 |
| 415 | Mrs Terri A. | Orlando, Fl | Jan 13, 2020 |
| 414 | Mr James H. | Lake Wales, FL. | Jan 13, 2020 |
| 413 | Mr Thomas B. | West Milton , Ohio | Jan 13, 2020 |
| 412 | Mr Nick C. | St Clair Shores, MIMichigan | Jan 13, 2020 |
| 411 | Ms Kerolyn H. | Colorado Springs, CO | Jan 10, 2020 |
| 410 | Ms Wendra R. | North Bergen, NJ | Jan 09, 2020 |
| 409 | Ms Jan J. | | Jan 09, 2020 |
| 408 | Mr Keith M. | Gloucester, VA | Jan 09, 2020 |
| 407 | Ms Patricia R. | Tappahannock, VA | Jan 09, 2020 |
| 406 | Ms Leah W. | Colorado Springs, CO | Jan 09, 2020 |
| 405 | Mr Johnathan H. | Saginaw, TX | Jan 09, 2020 |
| 404 | Mr David D. | Hayward, Ca | Jan 08, 2020 |
| 403 | Ms Kathy M. | Frisco, TX | Jan 08, 2020 |
| 402 | Ms Anne S. | Waco, Tx | Jan 07, 2020 |
| 401 | Ms Viviana F. | Wantagh, NY | Jan 07, 2020 |
| 400 | Mr Gary S. | Largo, FL | Jan 07, 2020 |
| 399 | Mrs Patricia L. | San Diego, CA | Jan 07, 2020 |
| 398 | Mr Robert Alan C. | Paso Robles, CA | Jan 07, 2020 |
| 397 | Ms Sharon W. D. | Bossier City,, Louisiana | Jan 07, 2020 |
| 396 | Mrs Adele F. | Bohemia, New York | Jan 07, 2020 |
| 395 | Ms Jane W. | Charlotte, NC | Jan 07, 2020 |
| 394 | Ms Robyn M. | Warner Robins, ga | Jan 07, 2020 |
| 393 | Ms StarrLee H. | Green Cove Springs , Florida | Jan 05, 2020 |
| 392 | Mr Berney J. | South River, NJ | Jan 05, 2020 |
| 391 | Mr James E. | Jacksonville , Florida | Jan 02, 2020 |
| 390 | Ms Deborah S. | Jacksonville, FL | Dec 28, 2019 |
| 389 | Mr Edward S. | Virginia Beach, VA | Dec 26, 2019 |
| 388 | Ms Amanda C. | Jacksonville, FL | Dec 24, 2019 |
| 387 | Mr Dexter F. | Ja6, Florida | Dec 21, 2019 |
| 386 | Mr Thomas G. | Frankfort, Ky | Nov 15, 2019 |
| 385 | Mr Joshua S. | Jacksonville, FL | Nov 13, 2019 |
| 384 | Mr PAUL M. | Jacksonville, FL | Nov 11, 2019 |
| 383 | Mr Terry B. | Middleburg, FL | Nov 09, 2019 |
| 382 | Ms Catherine P. | Ponte Vedra, FL | Nov 04, 2019 |
| 381 | Mr James P. | Columbus, OH | Oct 29, 2019 |
| 380 | Mr Robert G. | Warren, NH | Oct 29, 2019 |
| 379 | Mr Michael G. | Virginia Beach, VA | Oct 28, 2019 |
| 378 | Ms Ruth F. | Richmond, Virginia | Oct 26, 2019 |
| 377 | Mrs Katharine H. | Saint Augustine , FL | Oct 10, 2019 |
| 376 | Mr Daniel E. | Jacksonville, Florida | Oct 09, 2019 |
| 375 | Mr Lucien M. | Fleming Island, FL | Oct 04, 2019 |
| 374 | Mr Joseph M. | Harvard, IL | Sep 25, 2019 |
| 373 | Mr Donald R D. | Middleburg, FL | Sep 25, 2019 |
| 372 | Mr Jesse P. | Orange park, Fl | Sep 23, 2019 |
| 371 | Mr Jeremy W. | Jacksonville, Fl | Sep 23, 2019 |
| 370 | Ms Donna H. | Silex, MO | Sep 23, 2019 |
| 369 | Mr Carl H. | Jacksonville , FL | Sep 23, 2019 |
| 368 | Ms Joyce G. | Ellsworth, ME | Sep 23, 2019 |
| 367 | Ms Tony W. | Jacksonville, FL | Sep 20, 2019 |
| 366 | Mr Steve k. | Orange Park, FL | Sep 20, 2019 |
| 365 | Mr Edward D C. | Manasquan , NJ | Sep 20, 2019 |
| 364 | Mr Ray P. | St Augustine, FL | Sep 15, 2019 |
| 363 | Ms James M. | Interlachen, FL | Sep 07, 2019 |
| 362 | Mr David Willson M. | Redding, California | Sep 04, 2019 |
| 361 | Ms Deeann D. | Tulsa, Okla | Aug 19, 2019 |
| 360 | Mr Charles C. | JACKSONVILLE, FL | Aug 19, 2019 |
| 359 | Mr Keith A. | Jacksonville , FL | Aug 17, 2019 |
| 358 | Ms Jody H. | Orange Park, FL | Aug 12, 2019 |
| 357 | Mr Keith L. | Waynesboro, Mississippi | Aug 11, 2019 |
| 356 | Mr Denis L. | Westminster , Mass | Aug 10, 2019 |
| 355 | Mr Donald R. | Montour Falls, NY | Aug 08, 2019 |
| 354 | Ms Melanie R. | Green Cove Springs , Florida | Jul 29, 2019 |
| 353 | Mrs Nancy R. | Green Cove Springs, FL | Jul 29, 2019 |
| 352 | Mrs Dee E. | Orange Park , Florida | Jul 28, 2019 |
| 351 | Ms Leslie K. | Jacksonville , FL | Jul 28, 2019 |
| 350 | Mrs Maureen B. | Middleburg, Fl | Jul 28, 2019 |
| 349 | Mr Richard V. | Fleming Island, Florida | Jul 27, 2019 |
| 348 | Mr Rick T. | Reno, NV | Jul 13, 2019 |
| 347 | Ms John P. | Orange Park, FL | Jul 11, 2019 |
| 346 | Mr Charles W. | Glen Saint Mary, FL | Jul 10, 2019 |
| 345 | Ms Justin W. | Jacksonville , Fl | Jul 09, 2019 |
| 344 | Ms Robert W. | Mission, MA | Jul 06, 2019 |
| 343 | Ms Tom N. | Jacksonville , Fl | Jul 05, 2019 |
| 342 | Mr Adam L. | Jacksonville, FL | Jul 04, 2019 |
| 341 | Mr Trevor T. | Orange Park, FL | Jul 03, 2019 |
| 340 | Mr Anthony F. | Jacksonville, 19 | Jul 03, 2019 |
| 339 | Mr Kevin N. | Hilliard, FL | Jul 03, 2019 |
| 338 | Ms Kristine T. | Ocala, FL | Jul 03, 2019 |
| 337 | Mr LARRY R. | PVB, FL | Jul 02, 2019 |
| 336 | Mr Ralph T. | Alachua, FL | Jul 02, 2019 |
| 335 | Mrs JOSEFINA HOLGUIN G. | San Angelo, TX | Jul 01, 2019 |
| 334 | Mr MICHAEL G. | JACKSONVILLE, FL | Jul 01, 2019 |
| 333 | Mrs Christina M. | Yulee, FL | Jul 01, 2019 |
| 332 | Mr Blake C. | Fernandina Beach, FL | Jul 01, 2019 |
| 331 | Mr Gordon L. | Jacksonville, FL | Jun 30, 2019 |
| 330 | Mr Matthew G. | Jacksonville, Florida | Jun 30, 2019 |
| 329 | Mr Steven S. | Jacksonville, FL | Jun 29, 2019 |
| 328 | Ms Kathryn R. | Jax , Fl | Jun 29, 2019 |
| 327 | Mrs Mary Ellen G. | Atlantic Beach, Fl | Jun 29, 2019 |
| 326 | Mr Andrew G. | Atlantic Beach, Fl | Jun 29, 2019 |
| 325 | Mr John R. | Jacksonville, Florida | Jun 29, 2019 |
| 324 | Mr Padraic E. M. | Jacksonville , Fl | Jun 29, 2019 |
| 323 | Mr Darryl I. | Jacksonville, FL | Jun 29, 2019 |
| 322 | Mr David S. | Orangeburg, SC | Jun 29, 2019 |
| 321 | Ms Barbara H. | Oakton , Va | Jun 29, 2019 |
| 320 | Mrs Laura G. | Jacksonville , Florida | Jun 28, 2019 |
| 319 | Mr Louis G. | Jacksonville , Florida | Jun 28, 2019 |
| 318 | Ms Jeanne T. | Goose Creek, SC | Jun 28, 2019 |
| 317 | Dr. Phil M. | Atlantic Beach, FL | Jun 28, 2019 |
| 316 | Mr aj b. | Green Cove Springs, FL | Jun 28, 2019 |
| 315 | Ms Robert D. | PITTSBURGH, Pennsylvania | Jun 27, 2019 |
| 314 | Mrs Maureen G. | Atlantic Beach, FL | Jun 27, 2019 |
| 313 | Mr Jon L. | Ponte Vedra , Florida | Jun 27, 2019 |
| 312 | Ms Irene C. | Hayesville, North Carolina | Jun 27, 2019 |
| 311 | Mr Brian G. | Jacksonville, Fl | Jun 26, 2019 |
| 310 | Mr Shawn G. | St. Augustine, Fl | Jun 26, 2019 |
| 309 | Mrs Patricia H. | Orange Park, Fl | Jun 26, 2019 |
| 308 | Mr mike s. | leesburg, 19 | Jun 26, 2019 |
| 307 | Mr Jack B. | Lebanon, TN | Jun 26, 2019 |
| 306 | Ms Sheila W. | Jacksonville, FL | Jun 26, 2019 |
| 305 | Mrs Patricia M. | Erwin, TN | Jun 26, 2019 |
| 304 | Mr David H. | Orange Park, Florida | Jun 26, 2019 |
| 303 | Mr Roger C. | Jacksonville, FL | Jun 26, 2019 |
| 302 | Ms Thomas L. | Crozet, Va | Jun 26, 2019 |
| 301 | Ms Patrick M. | Saint Petersburg, FL | Jun 26, 2019 |
| 300 | Mr Louis W. | Fleming Isle, FL | Jun 26, 2019 |
| 299 | Mr Daniel G. | New Port Richey, FL | Jun 26, 2019 |
| 298 | Ms karen l. | Jacksonville, FLORIDA | Jun 26, 2019 |
| 297 | Mr Richard F. | Jacksonville , FL | Jun 26, 2019 |
| 296 | Mrs AUBREY G. | ST AUGUSTINE , FL | Jun 26, 2019 |
| 295 | Mr Steven P. | Jacksonville, Florida | Jun 26, 2019 |
| 294 | Ms Denise J. | Fleming Island, FL | Jun 26, 2019 |
| 293 | Ms Suresh V. | Jacksonville, FL | Jun 26, 2019 |
| 292 | Mr Philip H. | Plainfield, NH | Jun 26, 2019 |
| 291 | Mr Lee P. | Yulee, FL | Jun 26, 2019 |
| 290 | Mr Robert L. | St Johns, FL | Jun 26, 2019 |
| 289 | Ms Jane A. | Jacksonville, FL | Jun 26, 2019 |
| 288 | Ms Carolyn D. | Jacksonville, FL | Jun 26, 2019 |
| 287 | Ms Brandi K. | Jacksonville, FL | Jun 26, 2019 |
| 286 | Mr Sutton H. | Jacksonville, FL | Jun 26, 2019 |
| 285 | Mr Dennis O. | Jacksonville, FL | Jun 26, 2019 |
| 284 | Mr Michael H. | Atlantic Beach, Florida | Jun 26, 2019 |
| 283 | Mrs Kendra G. | Herndon , Va | Jun 26, 2019 |
| 282 | Mr Rob D. | Maitland, FL | Jun 25, 2019 |
| 281 | Ms Natalie S. | Leesburg, Georgia | Jun 25, 2019 |
| 280 | Mr Douglass C. | Atlantic Beach, Florida | Jun 25, 2019 |
| 279 | Mr Generato M. | Jacksonville, FL | Jun 25, 2019 |
| 278 | Mr William . | Jacksonville , Fl | Jun 25, 2019 |
| 277 | Mr WILLIAM R. | Atlantic Beach, FL | Jun 25, 2019 |
| 276 | Ms Barbara C. | Fernandina Beach , Florida | Jun 25, 2019 |
| 275 | Ms Robert S. | Orange Park, FLORIDA | Jun 25, 2019 |
| 274 | Mr Arthur C. | Ponte Vedra, FL | Jun 25, 2019 |
| 273 | Mr Gary W. | Orange park, Fl | Jun 25, 2019 |
| 272 | Mrs Lisa G. | McLean, VIRGINIA | Jun 25, 2019 |
| 271 | Mr Wharton C. | Jacksonville, FL | Jun 25, 2019 |
| 270 | Ms Katie H. | Bunnell, Fl | Jun 25, 2019 |
| 269 | Ms Doreen F. | Ponte Vedra, Fl | Jun 25, 2019 |
| 268 | Mr Francisco B. | SAINT JOHNS, FL | Jun 25, 2019 |
| 267 | Mrs Tamara B. | Jacksonville, Fl | Jun 25, 2019 |
| 266 | Mr Robert B. | Jacksonville, Fl | Jun 25, 2019 |
| 265 | Mr Bob N. | Oro Valley, Az | Jun 25, 2019 |
| 264 | Mr Brad C. | Saint Johns , Fl | Jun 25, 2019 |
| 263 | Mr Mike O. | Sterling, VA | Jun 25, 2019 |
| 262 | Mr Jeffrey V. | Maplewood, MO | Jun 25, 2019 |
| 261 | Dr. Benjamin W. | Atlantic Beach, FL | Jun 25, 2019 |
| 260 | Mr Deane B. | Raleigh, NC | Jun 25, 2019 |
| 259 | Mr Rodolfo R. | Jax, Fl | Jun 25, 2019 |
| 258 | Mr Richard H. | Williamsburg, Virginia | Jun 25, 2019 |
| 257 | Mr Lester S. | Fleming Island, FL | Jun 25, 2019 |
| 256 | Mr Michael N. | Saint Charles , MO | Jun 25, 2019 |
| 255 | Mrs Angela H. | Jacksonville, FL | Jun 25, 2019 |
| 254 | Mr Joseph H. | Jacksonville, FL | Jun 25, 2019 |
| 253 | Mr Bernard A. | Riverside, Ca | Jun 25, 2019 |
| 252 | Mr Alfred A. | Mullins, SC | Jun 25, 2019 |
| 251 | Mr Franklin G. | Fleming Island, FL | Jun 25, 2019 |
| 250 | Mrs Mary Lee K. | Atlantic Beach, Florida | Jun 25, 2019 |
| 249 | Mr Patrick K. | Atlantic Beach, Florida | Jun 25, 2019 |
| 248 | Mr Art G. | Jacksonville, Florida | Jun 25, 2019 |
| 247 | Mr Jim L. | Placitas, NM | Jun 25, 2019 |
| 246 | Mr Samuel V. | SUMMERVILLE, SC | Jun 25, 2019 |
| 245 | Ms J J. | Jacksonville, FL | Jun 25, 2019 |
| 244 | Dr. Gary L. | Brownwood, TX | Jun 25, 2019 |
| 243 | Mr Francis D. | Atlantic Beach, FL | Jun 25, 2019 |
| 242 | Mr Clifford M J. | Pickens, SC | Jun 25, 2019 |
| 241 | Mr Al M. | Erwin, US | Jun 25, 2019 |
| 240 | Ms John L. | Ames, Iowa | Jun 25, 2019 |
| 239 | Mr John H. | St. Petersburg, FL | Jun 25, 2019 |
| 238 | Mr Dennis M. | Williamsburg, VA | Jun 25, 2019 |
| 237 | Mr Ben W. | Jacksonville, FL | Jun 25, 2019 |
| 236 | Mr Barry V. | Valley , AL | Jun 25, 2019 |
| 235 | Ms Sheila R. | Arlington, Va | Jun 25, 2019 |
| 234 | Mr Richard O. | Long Beach, CA | Jun 25, 2019 |
| 233 | Mr Dale R. | Fleming Island, FL | Jun 25, 2019 |
| 232 | Mrs Josephine B. | Jacksonville , Florida | Jun 25, 2019 |
| 231 | Mr Nicolas K. | Fairfield, Ca | Jun 25, 2019 |
| 230 | Ms Jill P. | ST AUGUSTINE, FL | Jun 25, 2019 |
| 229 | Mrs Karen D. | Orange Park, FL | Jun 25, 2019 |
| 228 | Mr Edgardo O. | Fleming Island , FL | Jun 25, 2019 |
| 227 | Ms Bob B. | Fleming Island, Fl | Jun 25, 2019 |
| 226 | Ms Nadia h. | Jacksonville, FL | Jun 25, 2019 |
| 225 | Mrs Rita Z. | Bunnell, FL | Jun 25, 2019 |
| 224 | Ms Nancy M. | Pensacola, FL. | Jun 25, 2019 |
| 223 | Mrs Frances B. | Orange park, Florida | Jun 24, 2019 |
| 222 | Mr David P. | Fleming Island, FL | Jun 24, 2019 |
| 221 | Mr Jeremy T. | Ogden, Utah | Jun 24, 2019 |
| 220 | Mrs Primm W. | orange park, FLORIDA | Jun 24, 2019 |
| 219 | Mr Rocky P. | Roswell, GA | Jun 24, 2019 |
| 218 | Miss Katherine O. | St. Augustine, FL | Jun 24, 2019 |
| 217 | Mrs JAMIE H. | GLEN ST MARY, Florida | Jun 24, 2019 |
| 216 | Ms Robert G. | Jacksonville, FL | Jun 24, 2019 |
| 215 | Mr fred w. | Orange Park, FL | Jun 24, 2019 |
| 214 | Mr John W. | Stanley, NC | Jun 22, 2019 |
| 213 | Ms Sherry M. | Walled Lake, MI | Jun 22, 2019 |
| 212 | Mr Josh O. | White Lake, Michigan | Jun 22, 2019 |
| 211 | Ms Nancy H. | Perryville, Missouri | Jun 22, 2019 |
| 210 | Ms Eva S. | Waukesha , WI | Jun 22, 2019 |
| 209 | Ms Emily J. | Dallas, TX | Jun 22, 2019 |
| 208 | Mr Craig H. | Auburn , WA | Jun 22, 2019 |
| 207 | Mrs Debora L. | Hillsboro , OR | Jun 22, 2019 |
| 206 | Ms Mary Cappie O. | Aloharetta , Georgia | Jun 22, 2019 |
| 205 | Mr Dick L. | Hillsboro, OR | Jun 22, 2019 |
| 204 | Mrs Robin O. | Spring Creek, NV | Jun 22, 2019 |
| 203 | Mrs Rachel S. | Homewood, Illinois | Jun 22, 2019 |
| 202 | Mr Thomas G. | Eutawville, Sc | Jun 21, 2019 |
| 201 | Mr Gary J. | orange park, fl | Jun 20, 2019 |
| 200 | Ms LYNN V. | FLEMING ISLAND, FL | Jun 20, 2019 |
| 199 | Mr Mark E. | Grafton, West Virginia | Jun 20, 2019 |
| 198 | Ms Scott W. | Orlando , FL | Jun 19, 2019 |
| 197 | Ms Dora L. | Wildomar , Ca | Jun 19, 2019 |
| 196 | Mr H J. | Jacksonville, NC | Jun 19, 2019 |
| 195 | Mr Kurt W. | Swansboro, NC | Jun 19, 2019 |
| 194 | Mr Trent L. | West Fargo , ND | Jun 19, 2019 |
| 193 | Mr Kenneth G. | Cumming , GA | Jun 19, 2019 |
| 192 | Mr Phillip W. | McColl, SC | Jun 19, 2019 |
| 191 | Ms George P. | Commerce, GA | Jun 19, 2019 |
| 190 | Mr Steven N. | Sharpsburg , Ga | Jun 19, 2019 |
| 189 | Mr Marc P. | Deltona, FL | Jun 19, 2019 |
| 188 | Mr Kevin P. | Orange Park, Fl | Jun 19, 2019 |
| 187 | Mr Nathan W. | Middleburg, FL | Jun 19, 2019 |
| 186 | Mr Jessie W. | Keystone Heights , FLORIDA | Jun 19, 2019 |
| 185 | Mr Terry K. | San Diego, CA | Jun 18, 2019 |
| 184 | Mr Slade B. | Valrico, FL | Jun 17, 2019 |
| 183 | Dr. Brett U. | Fleming Island, FL | Jun 17, 2019 |
| 182 | Mr Dean L. | Middleburg, Fl | Jun 17, 2019 |
| 181 | Mr Michael S. | Carrington, ND | Jun 16, 2019 |
| 180 | Ms Lawrence K. | Walbridge, Ohio | Jun 16, 2019 |
| 179 | Mr Lyle B. | King George, VA | Jun 16, 2019 |
| 178 | Mr Thomas p. | Pensacola, Fla | Jun 16, 2019 |
| 177 | Mr John M. | Jacksonville, FL | Jun 16, 2019 |
| 176 | Mr Robert M. | Mechanicsville, Virginia | Jun 16, 2019 |
| 175 | Mr Ellis B. | Virginia Beach, VA | Jun 16, 2019 |
| 174 | Ms Judy B. | Loganville, Georgia | Jun 15, 2019 |
| 173 | Mr john r. | NEW PORT RICHEY, FL | Jun 15, 2019 |
| 172 | Mr Rich N. | Warrington, PA | Jun 15, 2019 |
| 171 | Mr Bert B. | Sevierville, TN | Jun 15, 2019 |
| 170 | Mr Howard M. | Millington, TN | Jun 15, 2019 |
| 169 | Mr Kenny S. | Summerville, SC | Jun 15, 2019 |
| 168 | Mr Terry F. | Virginia Beach , VA | Jun 15, 2019 |
| 167 | Mrs Shana M. | Jacksonville , FL | Jun 15, 2019 |
| 166 | Ms Maria R. | Jacksonville , FL | Jun 15, 2019 |
| 165 | Mr Eric W. | Pembroke pines, Florida | Jun 14, 2019 |
| 164 | Mr Thomas S. | Cochran , Georgia | Jun 14, 2019 |
| 163 | Ms James N. | Loveland, Co | Jun 13, 2019 |
| 162 | Mr William M. | Jacksonville , FL | Jun 12, 2019 |
| 161 | Ms Joyce T. | Bristol, VA | Jun 12, 2019 |
| 160 | Ms Gesila H. | Brazil, IN | Jun 12, 2019 |
| 159 | Mr Joseph S. | Orange park, Fl | Jun 12, 2019 |
| 158 | Mr Mike R. | La Plata, MD | Jun 12, 2019 |
| 157 | Mr Daniel G. | Jeffersonville, IN | Jun 12, 2019 |
| 156 | Mr Andy K. | Glen Ellyn, IL | Jun 12, 2019 |
| 155 | Ms James K. | Fort Walton Beach, FL | Jun 12, 2019 |
| 154 | Mr Thomas R. | Hollywood, FL | Jun 11, 2019 |
| 153 | Mr Jim S. | Iowa Falls, IA | Jun 11, 2019 |
| 152 | Mr James B. | Valrico , Fl | Jun 11, 2019 |
| 151 | Mr Keith W. | Cypress , Texas | Jun 11, 2019 |
| 150 | Ms Patricia B. | Safety Harbor, FL | Jun 11, 2019 |
| 149 | Mr William T. | Dickson, Tennessee | Jun 11, 2019 |
| 148 | Mr Terrence K. | Munford, Tn | Jun 11, 2019 |
| 147 | Ms William M. | Lithia Springs , Ga | Jun 11, 2019 |
| 146 | Ms Mary Y. | Elm Grove , Wi | Jun 11, 2019 |
| 145 | Mr Dennis H. | Stokesdale , NC | Jun 11, 2019 |
| 144 | Mr Leck T. | Sparks, Ok | Jun 10, 2019 |
| 143 | Mr Larry H. | Winchester , Kentucky | Jun 10, 2019 |
| 142 | Ms Colleen H. | Tampa, Fl | Jun 10, 2019 |
| 141 | Ms Kathryn M. | Charlotte, NC | Jun 10, 2019 |
| 140 | Mr Jeffrey L. | Wisconsin Dells, WI | Jun 10, 2019 |
| 139 | Mr Jon S. | Pensacola , Fl | Jun 10, 2019 |
| 138 | Ms Michael C. | Chalfont, Pa | Jun 10, 2019 |
| 137 | Ms Diane K. | Jacksonville, Florida | Jun 10, 2019 |
| 136 | Mr Chuck K. | Methuen, Mass. | Jun 10, 2019 |
| 135 | Mr ROBERT W. | Orange Park , Fl | Jun 10, 2019 |
| 134 | Mr Steven G. | Pace, Fl | Jun 10, 2019 |
| 133 | Ms Joanna M. | Rockville , Md | Jun 10, 2019 |
| 132 | Mr Jason B. | Jacksonville , Fl | Jun 10, 2019 |
| 131 | Ms Tamara F. | Jacksonville , Fl | Jun 10, 2019 |
| 130 | Mrs Patty L. | West Liberty , WV | Jun 09, 2019 |
| 129 | Ms Challice M. | Jacksonville , Florida | Jun 09, 2019 |
| 128 | Mr Michael B. | WILLISTON, FLORIDA | Jun 09, 2019 |
| 127 | Mr Michael C. | Jacksonville , Fl | Jun 09, 2019 |
| 126 | Mr Stan S. | Phillips, WI | Jun 09, 2019 |
| 125 | Ms Mark B. | Fleming Island, FL | Jun 09, 2019 |
| 124 | Mr John F D. | Venice, FL | Jun 09, 2019 |
| 123 | Ms Tim C. | Virginia Beach , VA | Jun 09, 2019 |
| 122 | Mr Charles W. | Louisville, KY | Jun 09, 2019 |
| 121 | Mr Bernard D. | Box Elder, SD | Jun 09, 2019 |
| 120 | Ms Pam C. | Bradenton, FL | Jun 09, 2019 |
| 119 | Mrs Ruth H. | Leesburg, Florida | Jun 09, 2019 |
| 118 | Mr Joe J. | Indianapolis, IN | Jun 09, 2019 |
| 117 | Mr Steven M. | Eustis, FL | Jun 09, 2019 |
| 116 | Mr Peter R. | Collierville, TN | Jun 09, 2019 |
| 115 | Mr Jamaes P. | Hiawassee, GA | Jun 09, 2019 |
| 114 | Mr John B. | Green Cove Springs, Florida | Jun 09, 2019 |
| 113 | Mr James H. | Delray Beach , FL | Jun 09, 2019 |
| 112 | Mr Eric B. | Anniston, Al | Jun 09, 2019 |
| 111 | Ms Phillip B. | Vinton, Va. | Jun 09, 2019 |
| 110 | Mr David C. | Virginia Beach, VA | Jun 09, 2019 |
| 109 | Mr James A. | Jacksonville, FL | Jun 09, 2019 |
| 108 | Ms Virginia T. | Blue Ridge, Virginia | Jun 09, 2019 |
| 107 | Ms Kathy H. | Kissimmee , Fl | Jun 09, 2019 |
| 106 | Mrs Sherry K. | Tallahasse , Fl | Jun 09, 2019 |
| 105 | Mr Dennis R. | North Olmsted, OHIO | Jun 08, 2019 |
| 104 | Ms Terri A. | Orlando, FL | Jun 08, 2019 |
| 103 | Mr Robert L. | Jacksonville, FL | Jun 08, 2019 |
| 102 | Mrs Regina H. | SALEM, VA | Jun 08, 2019 |
| 101 | Mr Michael W. | Pensacola, FL | Jun 08, 2019 |
| 100 | Mr Douglas C. | Lebanon, VA | Jun 08, 2019 |
| 99 | Ms George G. | Middleburg , Florida | Jun 08, 2019 |
| 98 | Mr Roger S. | Jacksonville, FL | Jun 08, 2019 |
| 97 | Mrs June H. | Cape Coral , FL | Jun 08, 2019 |
| 96 | Mr Bill P. | Zionsville, IN | Jun 08, 2019 |
| 95 | Mr William K. | Green Cove Springs , Florida | Jun 08, 2019 |
| 94 | Ms Ron G. | St Johns, FL | Jun 08, 2019 |
| 93 | Ms Loice T. | Middleburg , FL | Jun 08, 2019 |
| 92 | Ms Jeanne S. | Green Cove Springs , Florida | Jun 08, 2019 |
| 91 | Mr Elliott C. | Green Cove Springs, Fl | Jun 08, 2019 |
| 90 | Mr Marc K. | Hollywood , MD | Jun 08, 2019 |
| 89 | Ms Kimberly W. | Onsted , Michigan | Jun 08, 2019 |
| 88 | Mr Thomas V. | Orange Park , Fl | Jun 08, 2019 |
| 87 | Mr Robert S. | Jacksonville , FL | Jun 08, 2019 |
| 86 | Ms Charles C. | Clarksville , TN | Jun 08, 2019 |
| 85 | Mr Jay B. | Jacksonville, FL | Jun 08, 2019 |
| 84 | Mr Michael R. | Jacksonville , Florida | Jun 08, 2019 |
| 83 | Mr Michael M. | Mount Pleasant, SC | Jun 08, 2019 |
| 82 | Mx. William W. | Richmond , KY | Jun 08, 2019 |
| 81 | Mr Gregory O. | St marys, Ga | Jun 08, 2019 |
| 80 | Mrs Caroline S. | Callahan, Fl | Jun 08, 2019 |
| 79 | Ms Melissa J. | Jacksonville, FL | Jun 08, 2019 |
| 78 | Mrs Kathy A. | Green Cove Springs , Florida | Jun 08, 2019 |
| 77 | Ms John A. | Green Cove Springs , Florida | Jun 08, 2019 |
| 76 | Mr Robert M. | Fleming Island , Florida | Jun 08, 2019 |
| 75 | Mr Ben W. | Lexington , KY | Jun 08, 2019 |
| 74 | Ms Gerard N. | Orange Park, Florida | Jun 08, 2019 |
| 73 | Mrs Rickelle G. | Jacksonville , Fl | Jun 08, 2019 |
| 72 | Mr Wayne G. | Sussex, WI | Jun 08, 2019 |
| 71 | Mr Matthew T. | Jacksonville , Fl | Jun 08, 2019 |
| 70 | Mr Ronald B. | St Marys, GA | Jun 07, 2019 |
| 69 | Mr Shannon M. | Lexington , Kentucky | Jun 07, 2019 |
| 68 | Ms Annette H. | Jacksonville , FL | Jun 07, 2019 |
| 67 | Mr Richard R. | Jacksonville , Florida | Jun 07, 2019 |
| 66 | Mrs Roberta S. | Jacksonville , FL | Jun 07, 2019 |
| 65 | Mr Michael C. | Belleview, FL | Jun 07, 2019 |
| 64 | Ms Timothy B. | Orange Park, Fl | Jun 07, 2019 |
| 63 | Mrs Noelle G. | Jacksonville , FL | Jun 07, 2019 |
| 62 | Ms Melissa C. | Bowling Green, KY | Jun 07, 2019 |
| 61 | Mr Gary H. | Jacksonville , Florida | Jun 07, 2019 |
| 60 | Ms Catherine M. | Chatham , Ma | Jun 07, 2019 |
| 59 | Ms Helen T. | Sacramento, Ca | Jun 07, 2019 |
| 58 | Ms Jennifer Y. | Elkridge , Maryland | Jun 07, 2019 |
| 57 | Ms Sandra G. | Jacksonville, Fla | Jun 07, 2019 |
| 56 | Ms Angie D. | Scottsville , KY | Jun 07, 2019 |
| 55 | Mr William J. | Severna Park, MD | Jun 07, 2019 |
| 54 | Ms Amy W. | Bridgeport , CT | Jun 07, 2019 |
| 53 | Mr Lee R. | Lubbock, Texas | Jun 07, 2019 |
| 52 | Mr Gary E. | Rancho Palos Verdes, Californian | Jun 07, 2019 |
| 51 | Mr Kenny I. | Lexington, Ky | Jun 07, 2019 |
| 50 | Mrs Joy S. | Bowling Green, KY | Jun 07, 2019 |
| 49 | Mr Keith D. | Elkhart , Indiana | Jun 07, 2019 |
| 48 | Ms Sharon P. | Owensboro, KENTUCKY | Jun 07, 2019 |
| 47 | Mrs Julie V. | Orange Park, Fl | Jun 07, 2019 |
| 46 | Mrs Mary-Anne P. | Bowling Green, KY | Jun 07, 2019 |
| 45 | Mr Kelly S. | Lexington , Ky | Jun 07, 2019 |
| 44 | Mr Edward B. | Groveland, Florida | Jun 07, 2019 |
| 43 | Ms James K. | Orange Park, Fl | Jun 07, 2019 |
| 42 | Mr Robert H. | Pembroke , Ya | Jun 07, 2019 |
| 41 | Ms Yvonne S. | Tallahassee , FL | Jun 07, 2019 |
| 40 | Ms Robert M. | Orange Park , Fl | Jun 07, 2019 |
| 39 | Mr John B. | Jacksonville, Fl | Jun 07, 2019 |
| 38 | Mr Bill F. | Como, MS | Jun 07, 2019 |
| 37 | Mrs Cathy R. | Richmond, Ky | Jun 07, 2019 |
| 36 | Mr Sam S. | Jacksonville, FL | Jun 07, 2019 |
| 35 | Ms MaryEllen D. | BowlingGreen , KY | Jun 07, 2019 |
| 34 | Ms Michelle A. | Orange park, Fl | Jun 07, 2019 |
| 33 | Ms Kathryn B. | Saint Johns, FL | Jun 07, 2019 |
| 32 | Ms Sandra C. | Jacksonville , FL | Jun 07, 2019 |
| 31 | Mrs Denise R. | Winchester, KY | Jun 07, 2019 |
| 30 | Mr Brian G. | Port St Lucie, Fl | Jun 07, 2019 |
| 29 | Mr William J. | Merritt Island, Florida | Jun 07, 2019 |
| 28 | Mr Brian M. | New Port Richey, Florida | Jun 07, 2019 |
| 27 | Mrs Suzanne H. | Bowling Green, Kentucky | Jun 07, 2019 |
| 26 | Ms Walt W. | Bloomfield Hills, MI | Jun 07, 2019 |
| 25 | Mr Arthur P. | Orange park, Fl | Jun 07, 2019 |
| 24 | Mr William B. | St. Augustine, Fl | Jun 07, 2019 |
| 23 | Ms Missy M. | Sun Prairie, WI | Jun 07, 2019 |
| 22 | Mr John C. | Clover, SC | Jun 07, 2019 |
| 21 | Mr Edenito D. | Orange Park, FL | Jun 07, 2019 |
| 20 | Ms Christine H. | Orlando, Fl | Jun 07, 2019 |
| 19 | Mr John N. | Lowry City, MO | Jun 07, 2019 |
| 18 | Mr John L. | St Augustine, FL | Jun 07, 2019 |
| 17 | Mr Scott B. | Saint Augustine , Fl | Jun 07, 2019 |
| 16 | Mr George K. | Jacksonville, FL | Jun 07, 2019 |
| 15 | Mr John S. | Jacksonville , Fl | Jun 07, 2019 |
| 14 | Mr Emory P. | Jacksonville, Fl | Jun 07, 2019 |
| 13 | Ms Kathy C. | Orange Park, FL | Jun 07, 2019 |
| 12 | Ms Jerome S. | Seligman, AZ | Jun 07, 2019 |
| 11 | Ms Denise W. | Flagler beach , Fl | Jun 07, 2019 |
| 10 | Ms Chrystal B. | Jacksonville, FL | Jun 07, 2019 |
| 9 | Mrs Karen B. | Fort Worth, TX | Jun 07, 2019 |
| 8 | Mrs Pamela N. | Rockville, MD | Jun 07, 2019 |
| 7 | Mr Webster M. | Stafford , VA | Jun 07, 2019 |
| 6 | Mr Terry L. | jacksonville, Florida | Jun 07, 2019 |
| 5 | Mr Mat G. | Eagan, MN | Jun 07, 2019 |
| 4 | Ms Sheryl S. | Jacksonville , Fl | Jun 06, 2019 |
| 3 | Mr Michael C. | Jacksonville, FL | Jun 05, 2019 |
| 2 | Mr Jeffrey S. | Jacksonville, FL | Jun 05, 2019 |
| 1 | Mr Richard G. | Jacksonville, United States | Jun 04, 2019 |