Resident Community News MARCH 2, 2020
By the second week of February, the National POW/MIA Memorial & Museum had already experienced enough advancements to make 2020 a banner year.
In January, a standing-room only crowd of between 350 and 400 people crowded the recently restored Chapel of the High Speed pass for an official groundbreaking on the multi-phase, multi-year project to transform and expand the 26-acre memorial.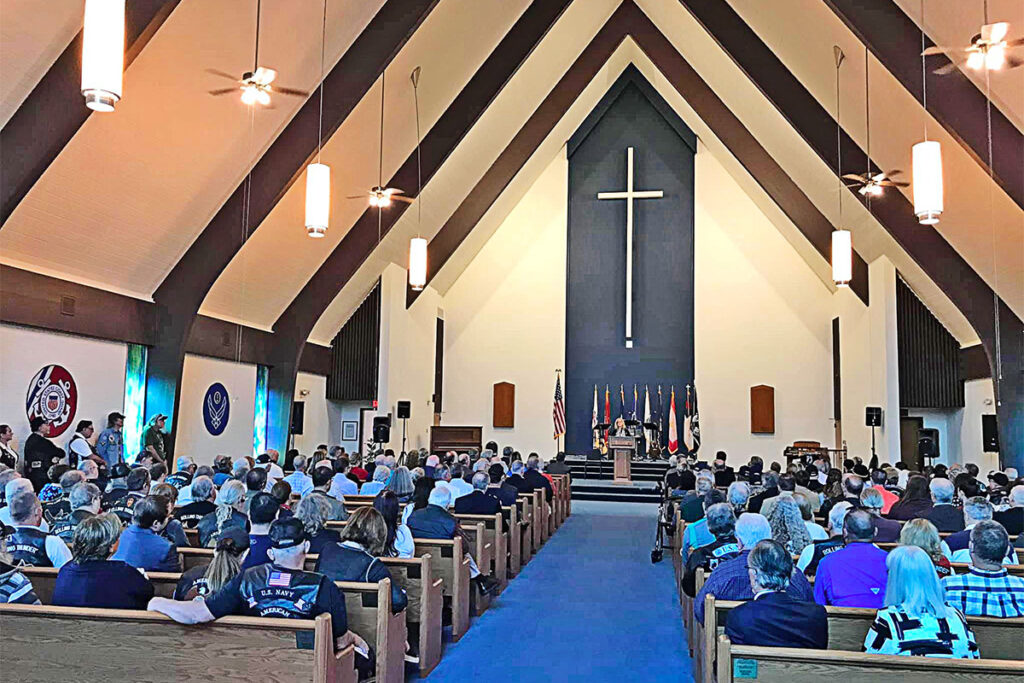 In February, efforts to raise $1 million to bring in four historic aircraft and complete phase 1 of the project were nearing completion.
And, as March closed in, a bill that would give the museum designation as the only national POW/MIA memorial and museum in the country was moving through Congress, Memorial Executive Director Mike Cassata said.
"Unfortunately, the piece in the country that is missing is the 'missing in action,' and we will be both a memorial and a museum that will go from World War II up to now," Cassata said, adding that while there is a national historic site for prisoners of war (POW) memorial near Andersonville, Ga., the site deals primarily with the Civil War and doesn't include those missing in action (MIA). There's also POW memorial in California, but it only contains a statue.
"I still get questions about that," he said.
As far as the full-steam-ahead fundraising, Cassata said the museum had raised more than 70% of the $1 million toward the first phase, including in-kind services, and had sold out of fundraising memorial bricks for the year, although donors could still purchase bricks for 2021. On top of all that largesse, the North Florida chapter of the Florida Nursery, Growers and Landscape Association, the Florida Irrigation Society and Baker Landscaping, a local company, also collectively donated $150,000 in irrigation and landscaping services and materials to landscape around the four aircraft that form the heart of the first phase. The aircraft are to sit in a square formation bounded by a semi-circular walkway northeast of the chapel, atop a concrete pad the Seabees will pour and form as a donation, said Doug Register, memorial volunteer.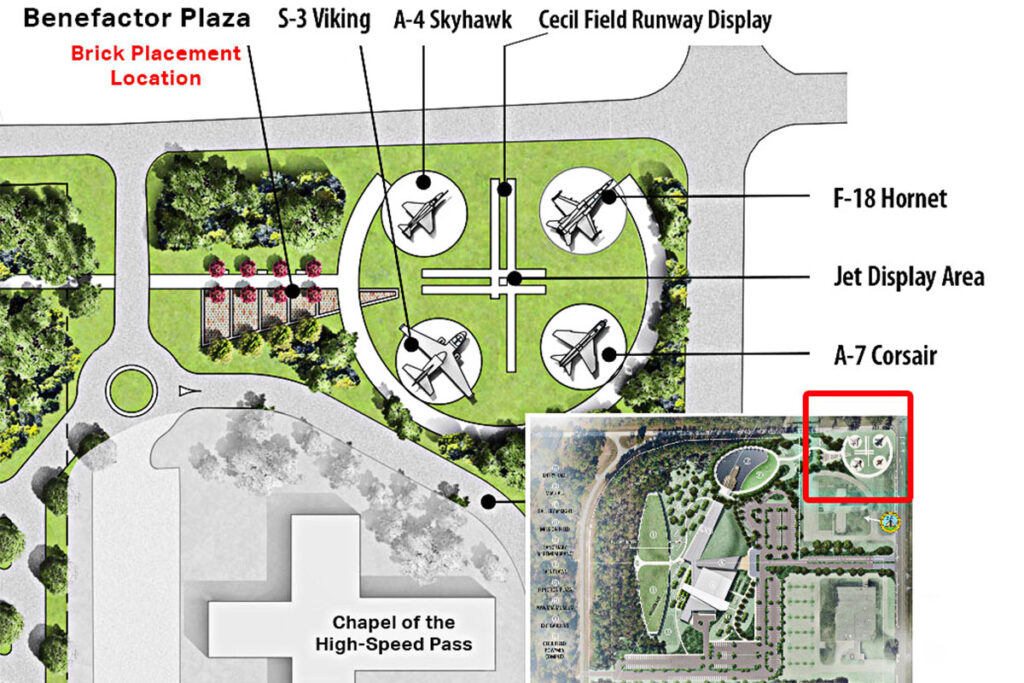 Flying toward the goal
Memorial officials hope to grace that pad with four specific planes that either were typical of the type that flew out of the former NAS Cecil Field Master Jet Base (now Cecil Commerce Center and the site of the memorial and museum) or that, preferably, were of that type that flew missions from the base.
On that front, memorial officials are one down, three to go, said Memorial Communications Director John Sutherland.
Sutherland said that one of the aircraft, an A-7 Corsair, was already in hand, which The Resident reported in October, but that it was now in the final stages of restoration. Pilots from Cecil Field flew the A-7, an attack aircraft, in several missions in Vietnam, he said.
"It's in excellent shape," Cassata added. "We're just looking to get a paint job."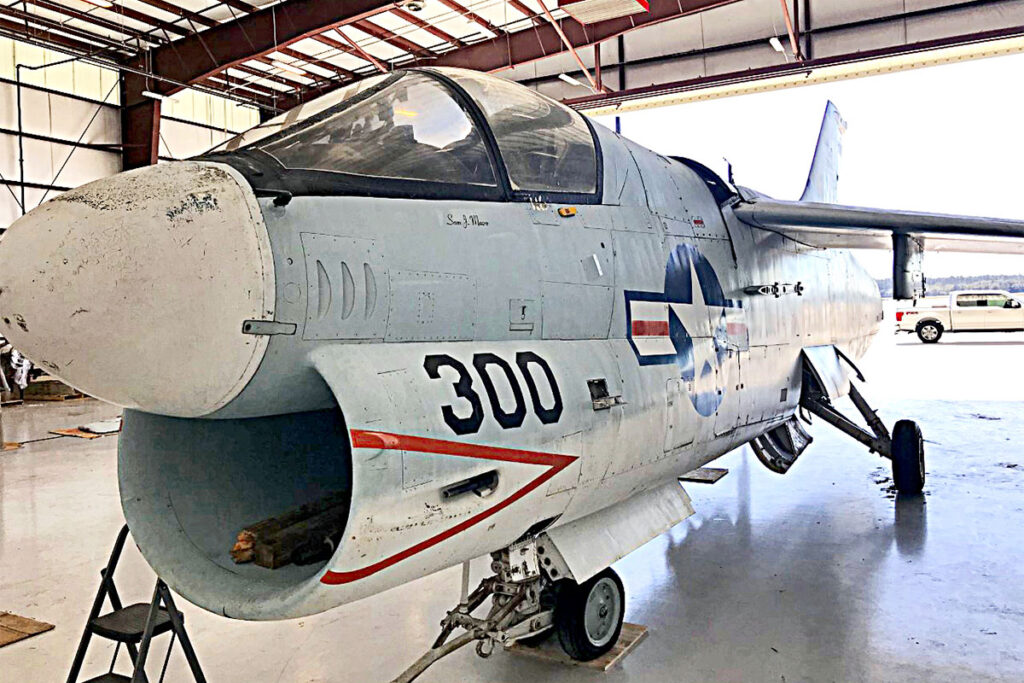 Sutherland said the organization was also working with the Florida-based National Naval Aviation Museum to procure an A-4 Skyhawk, an S-3 Viking, and an FA-18 Hornet. The staff of both the memorial and aviation museum were eyeing three aircraft that had previously flown from Cecil.
Cassata said the idea for the plane portion of the memorial, which would be placed atop a pad, came from a sculpture already installed at the memorial almost three decades ago.
"After Desert Storm, the memorial existed but they updated it (with the sculpture) to include (Navy Lt. Cmdr. Michael) Scott Speicher and (Navy Lt. Robert John) 'B.J.' Dwyer," he explained. "Dwyer is still missing in action. In the 1990s, the memorial got a starburst sculpture out there. That's where we got these four aircraft."
Speicher, a Jacksonville pilot, was the first casualty of the Persian Gulf War when, on Jan. 17, 1991, his plane was shot down. He was flying an FA-18 and had been stationed aboard the U.S.S. Saratoga. He was identified as missing in action, and his fate wasn't known until 2009, when U.S. Marines in Iraq found his remains after they learned that the nomads called Bedouins had buried them, according to a U.S. Department of Defense news release. Dwyer went down less than three weeks after Speicher and neither Dwyer nor his remains have been found. He was also flying an FA-18.
Cassata and Sutherland said fundraising for the memorial continues. One way the group continues to raise money is by selling memorial bricks through its website. The efforts have been so successful that the first order of bricks has been sold and placed. Sutherland said more than 200 bricks have been spoken for. Donors can still purchase a brick, but they will not be placed until 2021. The memorial bricks will be placed in a benefactor area leading up to the aircraft.
Sutherland said the memorial might also soon have an aid to fundraising, or perhaps enlistment, beside the memorial bricks and its other efforts.
"'Top Gun: Maverick' is coming out this summer," Sutherland said. "We'll have to do something to go along with that. Hopefully, it will get people interested in aviation."
The film is a sequel to the extremely popular "Top Gun," which was released in 1986 and starred a young Tom Cruise as a feisty fighter pilot and Kelly McGillis as his love interest. After the movie came out, enlistment increased as much as 500%, author and longtime journalist David L. Robb wrote in his 2004 book, "Operation Hollywood: How the Pentagon Shapes and Censors the Movies."
By Jennifer Edwards
Resident Community News