Chapel Restoration Campaign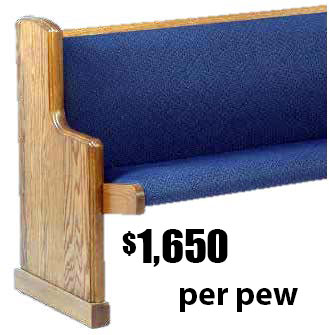 The Chapel at Cecil Commerce Center was originally dedicated in 1963 as part of NAS Cecil Field. The objective of the Cecil Field POW/MIA Memorial, Inc. non‐profit is to honor former Prisoners of War (POWs) and those who remain Missing in Action (MIAs) from all branches of the military. The Chapel serves as a focal point in this effort, as we restore the current chapel building. While the chapel will serve as the centerpiece for honoring former POWs and past and present MIAs, this organization will also be building a place of education, respite, and reflection on their sacrifices.
To bring the historic chapel back to its intended use, we are seeking donations for the restoration of the chapel as well as the ability to purchase a pew in someone's honor or memory. If you would like to purchase a full pew ($1,650), please fill out the information below. Each donor will be recognized on a plaque displayed in the chapel.
Donations of any amount can also be made to go towards the chapel restoration including windows, HVAC, flooring,
and other items needed to bring the chapel back to its original use for weddings and memorial services.
Please select Chapel Restoration under How would you like your donation to be used part of the form.
You can also download the form here and complete and submit with your payment to:
Cecil Field POW/MIA Memorial, Inc.
ATTN: Chapel Restoration
6112 POW-MIA Memorial Pkwy
Jacksonville, FL 32221